Blue Sky Fund heavily relies on the generosity of individual donors to fund our mission. Please consider making a donation today to support our mission to provide transformational experiences for Richmond area youth through outdoor education. With your help, the youth we serve will experience the outdoors in positive, supportive, and life-changing ways.
Your gift can make a direct impact in the following ways
$25 - Provide one Richmond Public School 3rd-5th grader with an Explorers experiential science investigation in the outdoors.
$50 - Provide middle school students the ability to rebuild confidence and resilience through our weekly after-school Outdoor Adventure Clubs
$100 - Fill one tank of gas for a Blue Sky bus, a critical component of getting the kids to program sites throughout the region
$250 - Refresh supplies that are essential for facilitating 12 Explorers hands-on science investigations at one site
$500 - Provide support for our Outdoor Leadership Institute this summer by sending diverse high school students on a 5-day wilderness experience at Grayson Highlands.
$1,000 - Ensure that Blue Sky Fund can provide transformative outdoor adventures to youth now and long into the future.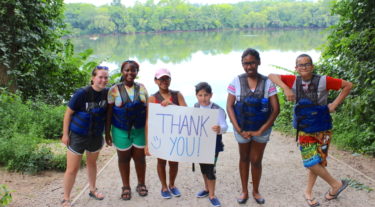 Here are a list of ways you can support Blue Sky:

Online Donations: click here to make an online donation today. Consider making your donation a monthly recurring gift.
Mailed Donations: please mail donations to Blue Sky Fund, Post Office Box 8108, Richmond, VA 23223.
Stock Gifts: please email our Executive Director, Amanda Payne at amanda@blueskyfund.org for information on how to make a stock transfer.
Planned Gifts: making a planned gift to Blue Sky Fund ensures that we provide transformational experiences through outdoor education for generations to come. For more details please contact our Development Director at development@blueskyfund.org.
In-Kind Gifts: Donations of outdoor equipment and office supplies help keep our costs low. We are extremely grateful to our past in-kind supporters that have helped Blue Sky outfit our students for everything from overnight camping trips to five day backpacking expeditions. If you are interested in making an in-kind donation, please email development@blueskyfund.org for a list of items we are currently seeking.
Matching Gifts: Double or even triple the impact of your donation by taking advantage of your employer's matching gift program. Include your employer's matching gift form with your donation or email our Development Director at development@blueskyfund.org with the information.
NAP Credits: Blue Sky Fund has been approved for Neighborhood Assistance Program tax credits through the Virginia Department of Education for this fiscal year. This resource allows donors in Virginia to receive up to 65% of the value of their gift in state tax credits in addition to their federal deduction. If you are interested in learning about the NAP program, or taking advantage of NAP credits, please contact our Executive Director at amanda@blueskyfund.org.
Social Media Fundraisers: Leverage the power of social media to give back to Blue Sky Fund by creating a fundraiser on Facebook! To create a fundraiser:
Log into your account
Search for @BlueSkyFund
Click the "Fundraisers" tab under our logo
Click "Raise Money" on this page
Publish and challenge your friends to give back to help connect youth to the outdoors
Help Freely: select to support Blue Sky Fund through HelpFreely.org and a portion of your online purchases made at hundreds of participating retailers will be donated back to us! Retailers include Nike, Groupon, Petco, Home Depot, Staples, Wayfair, Columbia and many more! To learn more about how you can help, click here!

Blue Sky Fund's tax ID is 14-1985225.