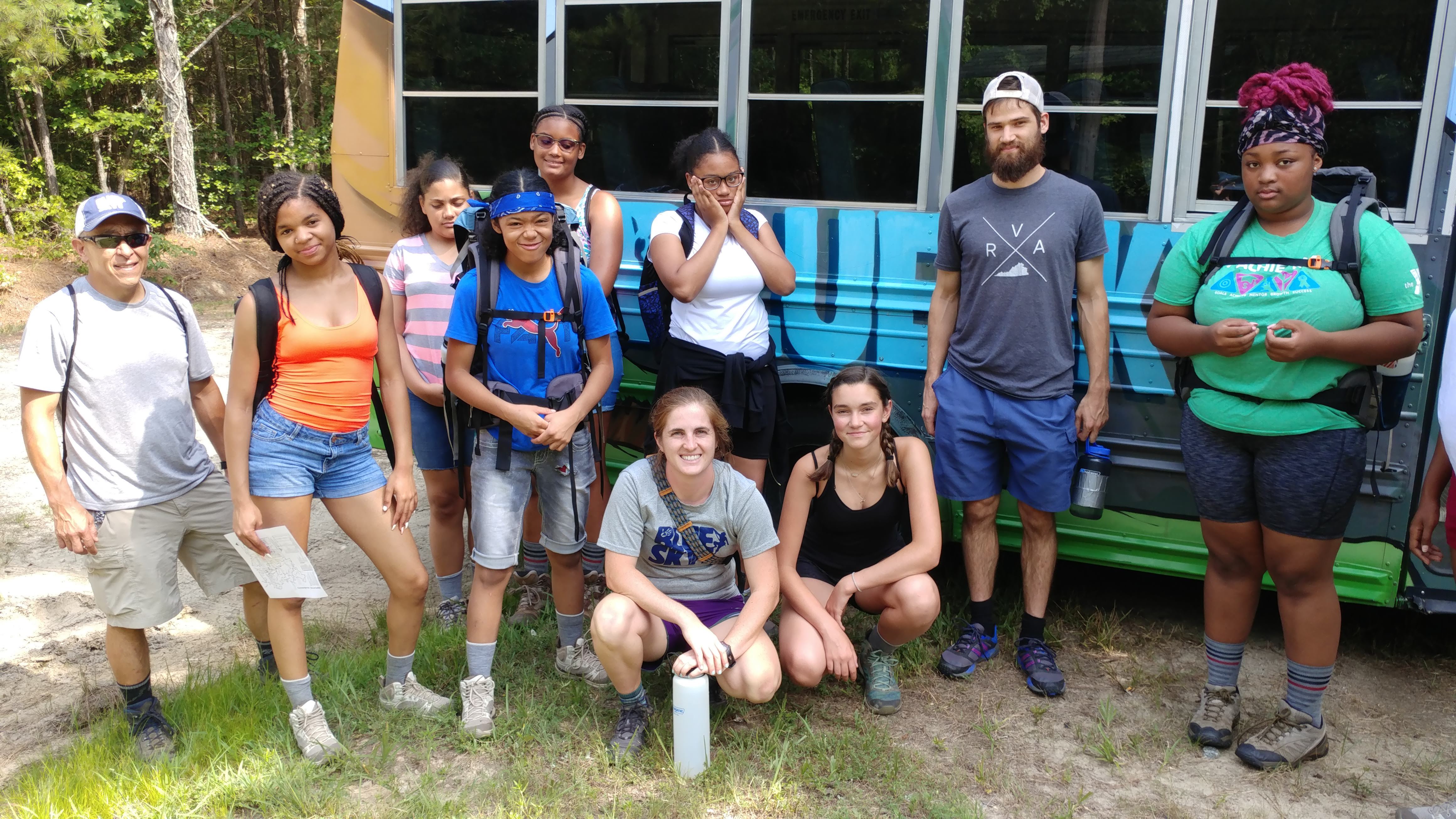 How do you begin to describe an amazing 12-day Outdoor Leadership Institute (OLI) experience as part of a crew of ten Richmond area high school students and two Blue Sky leaders? I'm not really sure … but here's my attempt! I hope the words give you a sense of the value of the transformational experiences provided to urban youth through the outdoor education programs offered by Blue Sky. Please consider joining me and others on October 26th as we hit the trails for Dominion Energy Hike for Kids to support the youth of Blue Sky Fund.

This past summer four crews of 10-12 Richmond area high school students participated in Blue Sky's OLI program. Students from diverse backgrounds came together for 12 consecutive days and began a journey of learning about themselves, each other, their team, while also sharing perspectives on challenges, opportunity gaps and ways to improve the communities they live in. The summer portion of the program centered on a five-day backpacking trip to southwest Virginia during which crew members learned, through challenges, how to strengthen their leadership, resiliency, and teamwork skills. Moving forward, OLI crews will meet once a month throughout the school year to participate in a community service activity.
Looking over my journal notes, I'm struck by how much the girls crew that I hiked with developed over the course of 12 days. Girls who had never walked more than from their house to the bus and around school learned to hike – with heavy backpacks! – over many rugged miles in southwest Virginia. They cooked, cleaned up, and set up their tents. We're talking ten high school girls and the full cycle of team development: forming, storming, norming, and performing; learning how to talk to complete strangers from diverse backgrounds; learning how to give and take feedback; learning how to deal with setbacks; working to resolving "tent wars;" figuring out how to deal with frustration of hiking together – fast and slow paces – during the long days; and maybe most important(?), learning to poop in the woods … you get the picture. It was a host of new experiences and situations for everyone…students, OLI leaders, and especially for me.
The net effect of leveling the playing field for everyone was the opportunity for each participant to discover what they could do to help others, and how to improve the team's enjoyment and performance. The best example of this was when the girls crew was given a map and the adults said, "see yah, we'll meet you for lunch at this point." The girls immediately got together, calmly exchanged ideas, developed their game plan, and went happily off into the woods. They successfully arrived at the lunch point and told the adults, "no offense – but we do better when you all are not hiking with us." Yes-success!!!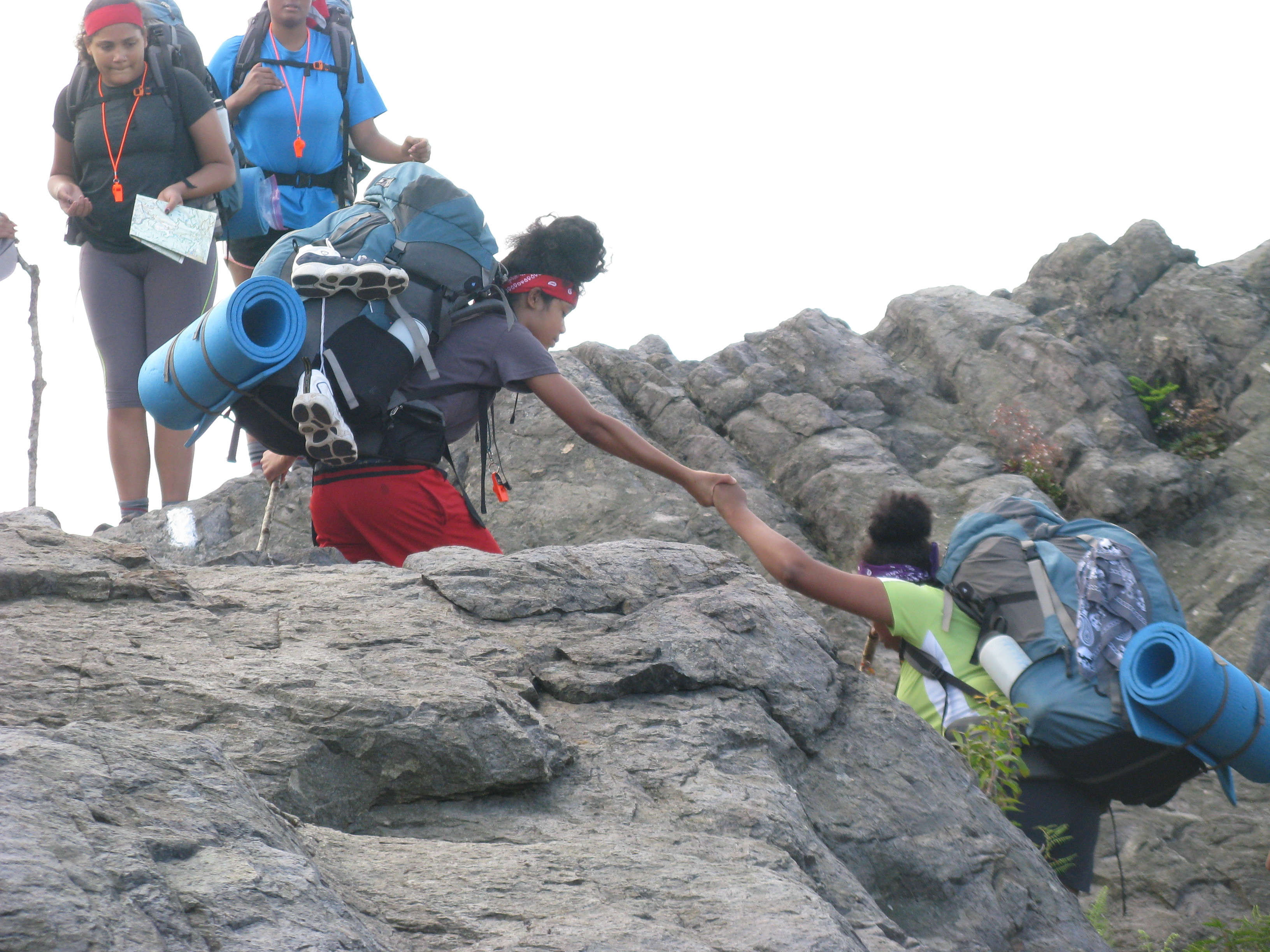 In closing, I want to put in a big shout out for program design and the OLI staff (Dustin Parks, Sarah Jane DeHart, Brittany Bailey, and Tyler Bodlak). The staff designed each day's activities with the end game in mind; 'build leadership, unity, and knowledgeable multicultural leaders who engage with the social needs of Richmond through service learning'. Each of the 12 days the crew learned something new, and every day they practiced what they learned through a range of creative and low cost indoor and outdoor activities. The learning experience was scaffolded to allow participants to practice in a safe and supportive environment and to enhance their range of skills over the 12-day period. At the end of the program, each of the four crews was asked to identify issues in the Greater Richmond area needing attention and local service organizations helping to address the issues. This information will be used by Blue Sky OLI staff to plan the future monthly OLI community service projects.
I can't wait to reconnect soon with the girls crew and OLI staff on the first service project. I hope to participate in OLI again in 2020!